Phuket Zoo
+ Round Trip Transfer
Phuket Zoo :
Phuket Zoo is the one of popular place for the tourist in Phuket. They always keep and take care their animal in a very well health. As well as all the animal and staff are very well trained to entertain the guest as save, nice and entertain.

If you book Phuket Zoo Ticket pass Phuket Tour Provider website, you can get a little bit cheaper price, but great service to pick up from the hotel and drop off.
New species of fish, birds and other animals are acquired each year as well as young from our various breeding programs. We exchange animals with other zoos to get rid of excess stock and bring in new blood.

And price ticket from Phuket Tour Provider you can get 3 shows; Monkeys, Elephants and Crocodiles
Monkey show is great for every one, especially Kids.
Crocodile show is quite surplice for every one "How the people can control the crocodile's feeling."
Elephant show: All elephants here always happy to show their skills. They need to show how claver they are.
Phuket Zoo has a nice Ocean aquarium for their guest as well.
There are a thousand kinds of Birds in our Bird Park, very nice for bird lovers.
You can enjoy the seeing a beautiful Orchid at Orchid garden corner in Phuket Zoo.
Enjoy taking a picture with our "Super Stars" under the closed look after from our specialist staff.
Price



Ticket + R/T transfer
Adult: 1,700 Baht/Person
Child: 1,400 Baht/Person
Price Includes:
Pickup from your hotel and drop off.
Crocodile Show
Elephant Show
Monkey Show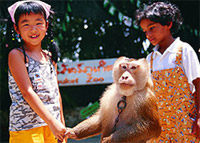 Pick Up from your hotel :
What to bring:
Sun block
Sun cap
Sun glasses
Camera
Lots of smiles