Real Jungle Route Trekking + Waterfall + Mountain meet the Sea + Virgin Beach

(Guaranteed no crowd and Unseen)
Real Trek, Virgin Waterfall, Mountain Meets the Sea.

"If you are the world Lovers, and need to find some nice place without the Cloud, this trip is yours"

We take you to walk through the Virgins Safari which is covered by the Khao Lak Mountain and the walkway is in between.
By this trip: you can do the activity by Real Jungle Walking throughout the Real Safari on the mountain which is connected to the Sea.

Thick Jungle Walk Tour (Mountain + Safari + Beach + Waterfall)

+ Real Jungle Walking: Jungle Route is on between the Sea and Mountain. We walked  on the forest point of Mountain Meeting the Sea.

+ Virgin Waterfall; The waterfall is kept secretly in the Thick Forest of the National Nature Park, guaranteeing no crowd.

+ Abandoned Beach is hidden  in the Mountain, no beach traders, no shops on the beach. Just you, Mountain, Jungle and virgin beach

"Package of Purity Nature Place; Thick forest Mountain + Fresh Hidden Beach and Nature completed Waterfall"
| | |
| --- | --- |
| | |
With our expert Tour Guide and Strong vehicle we can make sure that "You will be happy and save on this hard Discovery Trip."
First step: a very nice waterfall is hidden in the mountain, Clean fresh waterfall and very clear lakes, you can take a bath, look around on the nature study route or post the action with nature for a nice picture.
Study the nature life around the "Waterfall", getting more fun and risk with the Rope Bridge. And some Animal which you will never see before "Looks like a dry twigs, but is an animal.
After losing a lot of energy, someone starts to jump down into the waterfall lake, and someone takes action on their camera.
After finishing the "funny trip at Waterfall" our specialist Tour Guide is going to take you to touch the most thick tropical Jungle of the South. Are you ready? So, let's go.
During the Jungle Trekking, you must keep in line; Thick forests can make you lose your way very easily..
There are so many interesting things in the Jungle. We can not explain it to you all on the web. Please go to see them by yourself. And all in all, "do not eat or touch any fruits before asking  the tour guide."
And you can have a lot of fun with nature in the Jungle; it can make your body get fit.
And on the half of the long way, we have a great stop point "Viewpoint" This point makes you get new power and relaxes your heart with a nice view of the Cliff. (Mountain meets the sea)
After getting full of new power and drinking the water, the hard walking starts again "let's go".
At last, we reached the Virgin Beach (Small Beach) Very nice sandy, very clear water, no beach traders, not crowded. (Too far to come here for them, hahaha)
Brief Programs



| | |
| --- | --- |
| 08.30 AM: | Pick Up from your hotel in Phuket |
| 09.30 AM: | Start to discover the Waterfall |
| 11.00 AM: | We leave the Waterfall |
| 11.30 PM: | We arrival the "Khao Lak - Lamru" National Park and start to discover the Safari on the Hill "Safari meets the Sea" |
| 13.00 PM: | Arrival the "Small Beach or Virgin Beach" |
| 14.00 PM: | We serve snack and lunch box on the beach |
| 15.00 PM: | Back to the hotel. |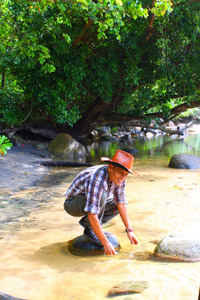 Price:(Private Trip)

| | |
| --- | --- |
| Adult | 2,900 Baht/Person (Minimum 2 people) |
| Child | 2,000 Baht/Person (Age 3-10 years old) |
Book Now!!! Gets FREE of Charge Transfer in (Airport-Your Hotel)
Price includes:
Private Trip
Private Tour guide
Snack
Soft Drinks, Coke, Orange Juice and Fresh water
Lunch Box (Good Lunch)
Binoculars
What to bring:
CowBoy Hat or Cap
Sunblock
Camera
Sport shoes