Scenery Green Day-James Bond Island
Guaranteed "The most impression"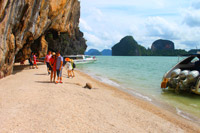 The other way of sightseeing in Phang Nga Bay National Park, the big Scene Set of James Bond007 Movie located in, is the lush green and largest "National Marine Park of Andaman Sea." There are many popular places for tourism on this nature bay such as "Floating Muslim Village, Koh Ping Kan or Koh Tapoo (Or James Bond Rock)

The Scenery Green Day-James Bond Island Day Package is going to show some more places that are different, and for sure we must avoid the busy time, avoid the crowded hour from the crowd of tourists.

By the difference Package, Difference Hour and Difference Sigh can make you get the better difference emotion of the tour.
Phuket Tour Provider has set up this "Scenery Green Day-James Bond Island" Day Trip for anyone who needs to get something better.

Please see the new view of James Bond Day Tour's Pictures and the Excursion that are included in this package and submit the booking for "Difference, but better-The Scenery Green Day-James Bond Island."
The green Scenery of Phang Nga Bay had arisen  because of the Mountain, the Water and Safari. And our Speed Boat can cruise around and as near as the safari makes you touch the green nature closed.
In the different corners, in the different time and different view can make you get a different impression, but better.
Timing is the most important for visiting "James Bond Island Trip" The right Time (Time that the other group have gone home already), the right location (The corner of the place which the other tourist never know) The right Group (Small Group Tour) And the right Tour Provider (Offer the service which you will never miss hope)
The Adventure amid the beauty  of nature (Caves, Sea Water, Mangrove Safari and Green Mountains) can be considered to be the best thing to do on Phang Nga Bay.
The easy and simple of Floating Muslim Village which located on the Ocean and near the Mountain Island make "Amazing Feeling Place"
The Big Set for Movie 007 James Bond (The man with the golden gun) was located for shooting here- Tapoo Island, Khao Phing Kan and James Bond Cave.
There are so many Secrete things that the normal tour package never shows the tourist, the Trip by speed Boat (Scenery Green Day-James Bond Island) .Only this trip can take you to this hidden point.
It is the unbelievable meeting of 3 Beautiful Art Natures; Sea, Mountains and Mangrove Safari.
The scenery Green Package at Phang Nga Bay is the paradise of the people who love to get  a day of peaceful and rare relaxing by cruise for seeing the new things.
The Simple life of The Muslim People on the Floating Village is the meaning of Panjee Island.
Before the end of the trip, the package will stop at the Private Beach for Private Hour -Very peach full for 2 hours relaxing on the private beach atmosphere of Naka Island
Brief Programs



| | |
| --- | --- |
| 07:00 AM: | Pick up from your hotel in Phuket by Air-Condition Minibus. Transfer to the international Pier of Phuket-Boat Lagoon Marina. |
| 08:00 AM: | After our tour guide briefs the program and warms the body by "Hot Coffee or Tea '' The high standard new model Speed Boat of Jc.Tour departs to Phang Nga Bay. |
| 09:00 AM: | Stop in the middle of Phang Nga Bay at Diamond Cave, Discover nature (Caves, Mangrove Safari and Mountain.) |
| 10:00 AM: | Visiting the Tham Lod (The long cave through from one side of the mountain to the other side) 1,000 Years Historic Pictures on the cave's panel, and Hong Island. |
| 11:00 AM: | Start to discover the closer to nature by Canoeing (We have the paddling staff to paddle for you so you have a real free time to take a picture or study the nature.) |
| 12:00 PM: | Visiting the James Bond 007 Island (The landmark point of Phang Nga Bay trip) And walking around the island, go through the Khao Phing Kan (2 largest Mountains Panel lean together) by walking around at the same time. |
| 13:00 PM: | Stop for lunch on Panyee Island which is the location of "Floating Village." After finishing lunch at a floating restaurant, we walked around the village to study the simple life of Island Local People. |
| 14:30: PM: | We cruise for sightseeing  around the bay, and stop at the major point "Koh Hong or Hong Island) to take a picture and cruise around. |
| 15:00 PM: | Stop at Naka Island for swimming and relaxing as there is no crowded atmosphere on the hidden Island. |
| 16:00 PM: | Arrive at the Boat Lagoon Marina, sip goodbye cool drinks and transfer you back to the hotel. |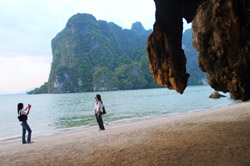 Price(For Top VIP Private Trip Only)

| | |
| --- | --- |
| 2 - 3 People Group: | 9,800 Baht/Person |
| 4 - 6 People Group: | 6,800 Baht/Person |
| 7 - 12 People Group: | 4,800 Baht/Person |
| 13 - 16 People Group: | 3,800 Baht/Person |
Book Now!!! Gets FREE of Charge Transfer in (Airport-Your Hotel)
Remark: This trip is Private Trip (Minimum 2 People Booking)
Price Includes:
Land transfer from every hotel on Phuket Island to Boat Lagoon Marina (R/T)
All equipment for Canoeing with the Paddle Staff
Set Menu Thai Food Lunch on "Floating Village" (The Hallal & Muslim Food or Vegetarian can be requested)
Soft Drinks (Coke, Orange and Drinking water) serviced all the time.
Fruits and Snack
English Tour Guide (The other language must be requested)
Insurance