Big Head Ghost
Canoe Package
Sea canoeing tours have become a very popular day trip for tourists nowadays; because you can see all the hidden beautiful places. Sometimes those places are in the caves or narrow lakes in the mountains. To enter there must be on the water way only and the way is not big enough for the local boat. Canoe boats can go every narrow way. Canoeing Tour only can make you see the Hidden Beautiful Place.

In Ao-Luke district of Krabi Province, there are 4 ancient caves located in the mangrove safari bay. They are called tunnel cave, lagoon cave throughout cave and big head ghost cave. Those 4 caves have the clue of the ancient human being from before time written pictures, which used the animal blood for ink.

The Big Head Ghost canoe trip offers to explore all the caves by canoeing, as well as sightseeing the beautiful scenery of mangrove safari bay, wild life, oyster farm, fishing net etc.
Big Head Ghost Canoeing Tour is the one which will take you to unseen beautiful places  in the mysterious caves of the Mountain.
"Tunnel Cave which looks like the underground train way from the side to the other side of the mountain." Inside of it, there are many very beautiful limestone cliffs in a strange shape. By canoeing a boat with a very expert paddle guide only can take you to see this.
Lagoon inside the mountain; it is an unseen lagoon inside the mountain. In this lagoon is very quiet (Deeply quiet) you can hear the movement of nature make you feel real relaxing and leisure (Better than a factor of SPA) Moreover, the safari monkeys or gibbons sometimes come to say hello to you.
Tham Lord; the underworld cave will show you magical nature pictures which you can take with your camera to show your all friends at your home. The arts which the human never can write.
Tham pee Hua Too; the meaning of this word is "The cave of Giant Head Ghost" In the cave, there are about 30 historic pictures which were written 3,000 Years before. These pictures can show you something about human living life last 3,000 years ago.
Brief Programs



09.00 AM
The Air condition minibus pick-up from every hotel in Phuket. (no extra charge)
Arrival at the Ao-Luke Floating station of canoeing. Set up and fit the size of canoeing equipment (Canoe, paddles, life jacket and water protection bag)
Start to discover the wonderful bay.
- Visit the lagoon cave.
- Visit Throughout cave
- Visit Tunnel Cave
- Visit Big Head Ghost Cave.
13.00 PM
Thai food Lunch served at a floating restaurant.
14.30 PM
Leave from the Ao-Luke pier. Back to Phuket.
16.00 PM
Arrival to Phuket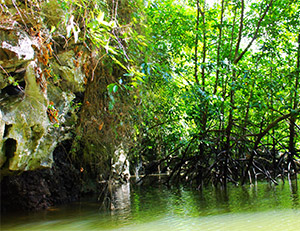 Price:(Private Trip)

Adult
3,500 Baht/Person

(minimum booking 2 people up.)

Child
2,800 Baht/Person
Book Now!!! Gets FREE of Charge Transfer in (Airport-Your Hotel)
Tour includes:
Transfer from your hotel
Experience guides
Lunch, Soft drink, Fresh Fruits(Halal or Vegetarian  food on your request)
Hot tea & Coffee
Life jacket
Insurance
What to bring:
Swimming suite
Dry clothes
Beach towel
Sun block lotion
Sun cap, sunglasses
Walking shoes
Camera
Lot of smile